The Winner
Winner of the Week: Ali Wong
Show: Beef
Episode: Episode 9, "The Great Fabricator"
Why Her?
Warning: Potential spoilers ahead!
Road rage is the impetus of Lee Sung Jin's new Netflix series, Beef, which debuted last week, and is already one of the most exciting new shows of the year. Steven Yeun and Ali Wong—who last worked together on Jin's animated Tuca & Bertie as literal lovebirds—both deliver incredible performances in this harrowing and realistic black comedy.
Fans of Yeun are already familiar with his Oscar-nominated role in A24's Minari and Jordan Peele's Nope, not to mention his breakout as Glenn Rhee, a former pizza delivery boy fending off zombies, in The Walking Dead (but don't forget to check out Okja and The Humans as well). Up until this point, most people may remember Wong from her star-making Baby Cobra comedy special (which she performed while seven months pregnant), so seeing her transform in this latest standout role is certainly a game changer.
After the initial car chase scene in episode 1—which is like a suburban Fast & Furious recast with a sensible sedan vs a pickup truck—we are introduced to Amy, who seems like a sensible (yet frustrated) businesswoman with a picture-perfect life: caring handsome husband, cheerful young daughter, and a chic, modern home. But things quickly escalate as she and nemesis Danny become embroiled in a feud over 10 episodes, and the chaotic cycle of unhinged vengeance spirals. By the penultimate episode, Amy attempts to get her daughter back from Danny's vengeful criminal cousin Isaac, which results in a hostage situation and several surprisingly graphic deaths.
Don't worry: There's plenty to laugh at along the way. Like when Danny and Amy spend the final episode wandering through the wilderness and at one point start tripping balls from tainted elderberries.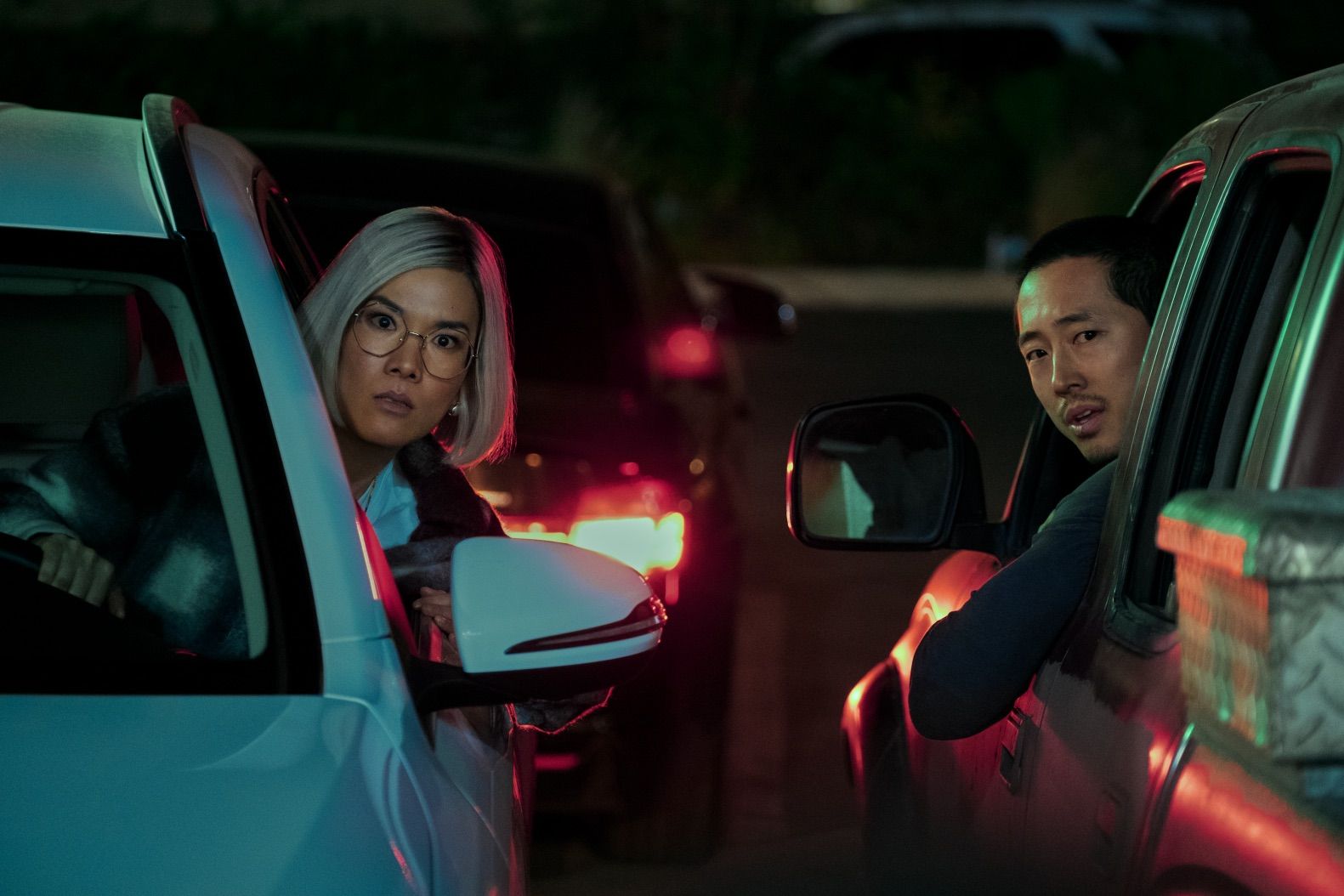 Some may wonder if Wong's stunning performance is because she was able to tap into her own personal drama to excavate raw emotions, since she divorced her husband, Justin Hakuta, in 2022. She explained that Beef gave her "the opportunity to talk about a lot of things that I haven't found a way to talk about in my stand-up." But she's clear to separate herself from her character of Amy.
"If I worried about what people thought, I probably wouldn't create anything," Wong told Rolling Stone. "As long as I understand, which I always have, that everything I do is a representation of some honesty, but not a full representation, that's the healthiest way to go."
At one point, Wong reveals the vulnerability and fear at the heart of Amy when she asks during a therapy session: "Do you think love can really be unconditional? You know, there must be some point where we all fall outside the reach of love. Like the mistake is so big and then the love has to stop." It's her ability to straddle the soft-and-hard mix of emotions in this role that proves that Wong is ready for more meaty roles (pun intentional)—and we can't wait to see what she does next!
Interested in watching Beef? Add it to your watchlist here!
Likewiser Reviews:
It all starts with road rage and you won't believe where Beef will take you from there. Ali Wong and Steven Yeun are amazing. David Choe is hilarious and scary at the same time. Loved this wild ride that unexpectedly had so many layers by the end. - @damien_scott
Good binge on a rainy day with one of the best things Netflix has recently released. Had me both in stitches and a little horrified by the pettiness we've devolved to. I thought Yeun was great in Minari, but this role was made for him. Ali Wong is awesome. Everything fades, but some of the gut punches will stay awhile. - @mco
Want to stay in the know about each week's winners? Make sure to read our What to Watch newsletters for the latest on all things streaming!